Bettering the lives of pets & people.
CURRENT SHELTER HOURS:
Tuesday – Friday 12:00pm-5:00pm
Saturday 12:00pm-3:00pm
Closed Sunday & Monday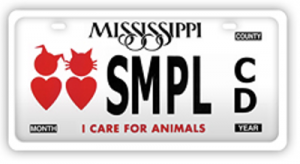 A easy way to support the TNR program for cats in Mississippi is to purchase a specialty license plate. The "I Care for Animals" car tag program supports strays in MS by getting them spayed and neutered. Your purchase of an "I Care for Animals" tag will help by giving grants to humane societies that meet the criteria. You can also donate to the "I Care for Animals" program by sending a donation to the following:
Mississippi Board of Animal Health
Attn: I Care for Animals
PO Box 3889
Jackson, MS 39207
CLHS ADOPTION SUCCESSES: Happy Tails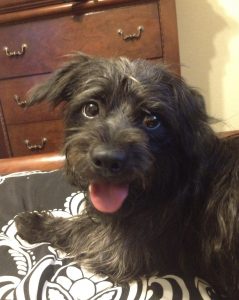 "I adopted Max 5/11/2012 after seeing him posted on the CLHS Facebook page. He has been through so many milestones of my life's journey these past 8 years! Max went to college with me, he was there through an engagement with me as well as getting married. He went through nursing school and graduated with me. Max has been by my side through buying our first home and now he's been here through his first human "sibling." Max has been the BEST companion and friend through life these past years and I can't wait to celebrate more milestones with him."
– CARLEY KEMP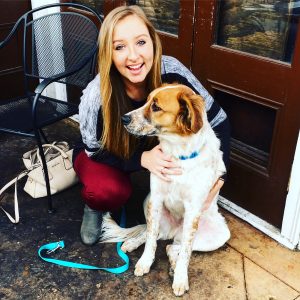 "4 years ago I adopted my guy from CLHS. He was around 8 months old at the time and known as Dusty. I wasn't sure about adopting a pet yet, but the moment I met him I knew I had to bring him home! A week later me and the newly named Dean boy were headed home, and boy was I surprised. He already knew his basic manners and was perfectly house trained. We had a rough start with the nightmares he had that would wake him up whining, his love for eating drywall, and his fascination with squirrels, but 6 months in he was a completely new dog! He has been through college, apartment changes, and a house remodel since then and loves his brother Diesel and his cats, Tig and Jackson Bruce. He can sucker anyone in with his strong goofy personality. Thank you CLHS!"
– KRISTEN NAIL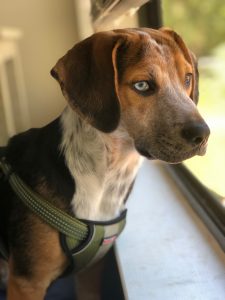 "Whether the story is shared or not, I have been meaning to come by and thank y'all! I adopted Huckleberry last January (2019). He is the most loving, hyper, silly, emotional dog I have ever encountered. He's also very very stubborn yet smart. Daily, I'm amazed at how smart and in touch with his emotions he is. I experienced really bad anxiety attacks shortly after I adopted him and he was always right there to comfort me, even as a puppy. Needless to say, thank y'all for everything you do and making it possible that I was able to adopt Huckleberry Finn and have him as part of my family!" 
– EFFIE MORRISON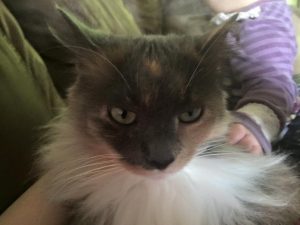 "Years ago, my then 10 year old son got birthday money from his grandmother. He decided he wanted to save a life and adopt a pet. We had been discussing it as a family prior to his birthday.  We looked at all the puppies and kittens available, and he kept coming back to this one tiny gray puff ball in the corner.  He decided that was the cat he wanted so we came home with Princess.
That 10 year old boy will be 19 this year. She has cemented a place into our family and our hearts. Three years ago, I am convinced she detected my cancer. I'm her person, and she had started acting differently around me. I thought it was strange, but we also had a baby 18 months prior so I thought she was acting that way to get more attention from me.  I went in for pre-op bloodwork, and much to my surprise, I had a cancer diagnosis. Once I started treatment and become stable, Princess went back to treating me like normal. If I have a bad day, she knows. She is cuddled up next to me the entire time. If I leave the room, she is right behind me.  She has been such an amazing addition to our family. She has taken everything in stride – two rambunctious boys, a baby years after her brothers, a toddler, and adding a canine brother to our family. She is absolutely the best, and I'm forever grateful he adopted her that day!"
-GAIL CHREST
"I adopted sweet Romeow after Christmas 2019! I wanted a really snuggly kitty – and boy, did I get one!! I wasn't quite sure how everything would go with my two pups at home, but we introduced everyone very slowly over a couple weeks. Now they are all the best of friends!!"
– JESSICA HORTON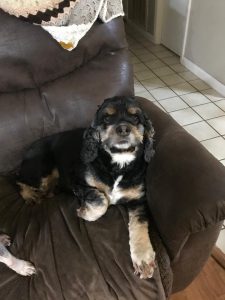 "My story begins with my son and his dog Charleigh.  Four years ago my son got married and left home with his cocker spaniel, Charleigh.  I was very attached to Charleigh so I don't really know if I was more heart broken from my son leaving home or his dog!  At this point my hunt for a Cocker Spaniel started.  I searched animal shelter sites for about a month, that is when I came across your website and found Tadd.  I contacted you about him and you agreed to hold him for me until I could get there the following Saturday.  When I arrived at your facility, I was greeted and taken to meet Tadd.  It was love at first sight for me, Tadd was really nervous but I could tell that he liked me too.  Tadd was a owner surrender, I do not know the circumstance as to why he was surrendered but I am so grateful that he was and that I found him as he really saved my life!  When we finally got home that day, Tadd was scared and couldn't understand but I could tell he was happy.  The first night home I wanted him to sleep with me, he couldn't understand that as he just wanted to play with me instead of laying down.  With time he came to understand the night night concept and he hugs me up every night!  Tadd is the most loving, caring, hugging dog that I have ever known and he is very protective of me.  I may have saved him and gave him an awesome life but in reality he saved me and continues to give me so much joy.  I tell everyone that is looking for a dog to search animal shelters first because the animals you find there just want to be loved and will love you more than you could ever know.  Thank you for all that you do for the animals and most of all thank you for giving me Tadd!
With a very grateful heart,"
– Vickie Kilpatrick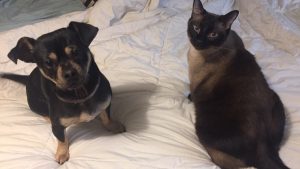 "Hello! My name is Kristina!
I adopted my cat in 2018. I don't remember what his name was because he named himself! When we brought him home we were thinking of renaming him and threw around some names. He immediately responded to the name Simba and came running to it. So that's when we knew. He immediately made himself at home and even used the litter box in the middle of our living room as we were putting it together he didn't hide not once lol
After almost a year a coworker of mine was throwing around the name "ponzie" I told my fiancé that if we ever got a dog I wanted to name him/her some variation of that word because I thought it sounded cute and I was obsessed. We went and visited the humane society in May of 2019 to look into getting a dog and that's when we met FONZIE. I knew immediately that he was meant for us. It couldn't have been coincidence for him to be there on that day with that name!
We were nervous about introducing the cat to him but they loved each other immediately!
We have had them both ever since and they are best friends!
Thank you for reading their happy ending!"
– KRISTINA BLANTON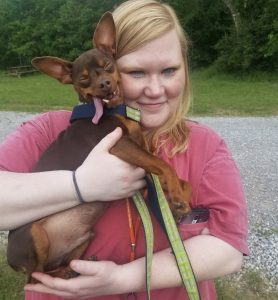 "We got Duncan April, 2017. We already had one Min Pin that we loved dearly when my daughter, who volunteered there, sent me a picture of Duncan, who had come in as a stray. Our family just had to include him. We kept his name Duncan and often call him Duncan Doughnuts because he loves to spin in circles when he's excited. Everyone that meets him falls for his lovable personality. The only one he has trouble with is the family cat but they tolerate each other most days."
– STACY SAXTON
We'd love to hear from you.
Columbus Lowndes Humane Society
50 Airline Road
Columbus, MS 39701
(662) 327-3107
columbuslowndeshs@gmail.com